Chronicles
We graciously invite all our members as well as other professionals who toil in alternative and complementary medicine to submit (by PDF) their column or article for publication on our site.
In this space, everyone is welcome! RITMA reserves the right to determine the validity and pertinence of the submitted texts.
RITMA will not be held responsible for the content of the published texts in this column.
Happy reading!
// 0000-00-00
Kinesitherapists and Orthotherapists at RITMA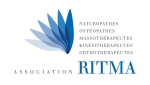 It is now official.


Two new therapies have been added to those already recognized by RITMA.

Indeed, the Kinesitherapists and Orthothérapeutes graduates can now become member of Association RITMA and can benefit the maximum of the advantages offered by RITMA.

We are happy of being able to accept them like members.

---