Chronicles
We graciously invite all our members as well as other professionals who toil in alternative and complementary medicine to submit (by PDF) their column or article for publication on our site.
In this space, everyone is welcome! RITMA reserves the right to determine the validity and pertinence of the submitted texts.
RITMA will not be held responsible for the content of the published texts in this column.
Happy reading!
// 2012-03-26
Important Changes at RITMA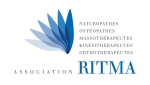 In an effort to conform to the new criteria set forth by several group insurance companies, as of March 2012, RITMA has revised their own requirements for each of the association branches.
At present time, numerous insurance companies have increased their minimum requirements and are establishing which therapist services will be reimbursed. Many more such companies are planning similar changes in the coming months.
In keeping with these adjustments, all RITMA members are required to have a minimum of 1000 hours of professional training and/or education.

MASSAGE THERAPY:
Since March 2012, All NEW RITMA Massage therapist members must have a minimum of 1000 hours of professional training and/or education. Consequently, new Massage Practitioners (with only 400 hours) are not eligible to become members of the RITMA association Massage Therapist.

NATUROPATHY:
Since March 2012, All NEW RITMA Naturopath members who do not reside in a province which has its own legislation, as is the case with Quebec, must adhere to the RITMA criteria, with a minimum of 1200 hours of professional training and/or education. The association will tabulate any/all applicable hours with supporting certificates and diplomas to assess the applicant's eligibility.

OSTEOPATHY, ORTHOTHERAPIE and KINESITHERAPY :
For these disciplines, the RITMA requirements have not changed. Please visit the web site for further details.

NATUROTHERAPY:
Since March 2012, in keeping with RITMA's desire to meet the requirements established by the insurance industry, the RITMA association has decided to abolish its branch for Naturotherapists. This mandate serves to protect the integrity of our membership and accepting these members would constitute a grave disservice since several large insurance providers are already declining the reimbursement of receipts issued for the services rendered by this discipline, with many other companies slotted to follow the trend in a few months.

To sum it up, the rules are changing. Sooner or later, all alternative medicine and /or therapist associations will have to make adjustments to keep up with the times. RITMA is very proud to enjoy a harmonious professional relationship with the insurance companies that offer group coverage and is equally proud of being the first Association to meet and/or exceed the industry requirements.
---