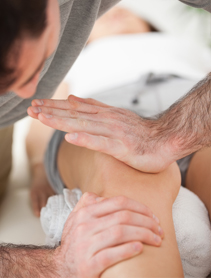 RITMA Kinesitherapists Association
ADMISSION REQUIREMENTS
To qualify as a Kinesitherapist
In order to qualify as a Kinesitherapist, RITMA requires that the applicant have the credentials of a Registered Massage Therapist (1000 hours and more) and have successfully completed another 300 hours training as follows :

225 hrs Anatomy of the upper and lower limbs, spinal cord, joint mobility, muscular workings, reprogramming of muscular sensitivities, sport related kinesitherapy, back pain prophylaxis, vertebrae pathology, as well as specialization of cervical, dorsal, lumbar, scoliosis, kyphosis, and spina bifida affectations.
30 hrs hands-on practice
45 hrs Practical training
It is understood that any/all applicants must :
Meet the minimum requirements of RITMA and possess valid diplomas for each of their specialties.
Successfully complete a practical exam and, if required, a written exam, in order to certify the validity of the diplomas.
Rigorously abide by RITMA's Code of Deontology and Ethics
ACCREDITATION CRITERIA & PROFESSIONAL TRAINING
To be awarded the title of Orthotherapist
RITMA requires the candidate to have a minimum of 1000 hours of training in massage therapy and physiotherapy and to have completed several additional hours of training including the following:
165 h Pathology of the shoulder, wrist and hand, pathology of the knee, sprain of the knee and ankle, restraints, rehabilitation, respiratory biomechanics, etc.
40 h Field work
35 h Language of gestures
60 h Practices and supervised courses