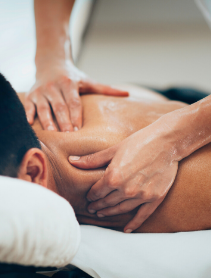 RITMA Massage Therapists Association - 1000 HOURS AND MORE
Faced with various issues affecting the massage therapy sector for several years, RITMA proposes a rigorous supervision of trainings and practices for the entire profession. To this end, RITMA has aligned its membership criteria with those required in the legislated provinces. Thus, since 2012, massage therapists must have more than 1000 hours of training or equivalent skills.

Consequently, our massage therapy association protects the public by guaranteeing quality professional services. It also secures insurers, avoiding the need to reimburse non-therapeutic care that have nothing to do with the discipline.
To date, as the practice is not regulated, there is no Order of Massage Therapists in Quebec or an official federation. We consider that massage therapists, the general public and the insurer community are well served, without the burden and costs of a professional order. In fact, among the thirty associations and groups involved with massotherapy in Quebec, there is a strong tendency to structure practices and set standards and norms rather than the advent of a professional order. To this end, we invite you to visit the site of the sectoral committee that oversees massage therapy.

Although there are various associations of professional massage therapists in Quebec, Ritma is known for its high standards. As a result, the association represents a community of highly qualified therapists in this sector.
RITMA Massage Therapists Association is open to all graduates from accredited schools who practices within the province of Quebec.
---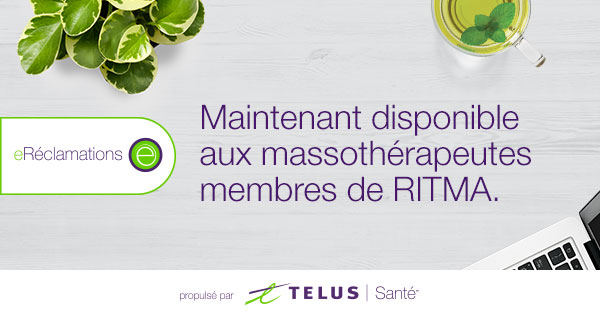 Direct billing to major insurance companies

RITMA is proud to announce that it is possible for eligible members to send electronic claims directly to insurance companies on behalf of their clients, free of charge.


Direct billing to insurers for today's connected world.
Accessible via a Web portal, the eClaims service, by TELUS Health, provides added value to eligible massage therapists and their clientele.


Benefits for clients
Reduces their out of pocket expenses by only paying for the portion not covered by their insurer

Cuts down on the hassle hassle of insurance paperwork

Decreases financial barriers and can help them stick to their treatment plan


Benefits for massage therapists

Reduce your paper consumption and add eClaims to the ways you are doing your part for the environment

Can help reduce your credit card fees by only charging your clients for the portion not covered by their insurer

Can help increase follow-up appointments

Gives you extra visibility - eClaims enabled providers are listed on a search tool that was used over 40,000 times last year

Free to register and use




eClaims in numbers

● More than 21,000 massage therapists outside of Quebec already use the eClaims service.
● 89% of them would recommend the service to their peers.*


Eligibility criteria

To be eligible for the eClaims service, RITMA members must satisfy the following criteria :

● Have a minimum of 1,000 hours of recognized training
● Have possessed a diploma in massage therapy for at least 7 years
● Have earned a minimum of 25 continuing education units during the 36 months prior to registration

If you don't have 1,000 hours of recognized training in massage therapy, you will still be able to manually claim for massage therapy from insurers. The eClaims service offers added value for an eligible massage therapist's clientele.



Participating insurance companies
Great-West Life

Manulife

Sun Life

ClaimSecure

Desjardins

Johnston Group

Canadian Construction Workers Union

Chambers of Commerce Group Insurance Plan

CINUP

First Canadian Insurance Corporation

GroupHEALTH

GroupSource

LiUna Local 183

LiUna Local 506

Manion

Maximum benefit
Register for the TELUS Health eClaims service
Legal notes:
* Survey results were obtained for TELUS Health through PMG Intelligence with 1,122 eClaims enabled healthcare professional respondents across Canada (September 5 to 19, 2018).

** eClaims is available to chiropractors, physiotherapists, optometrists, opticians, psychologists and podiatrists across Canada and to massage therapists, acupuncturists, naturopathic doctors, chiropodists and physical rehabilitation therapists in select regions in Canada. All features, functions, eligible professions and related benefits are inherent to the TELUS Health eClaims platform, but may not be supported by all participating insurers.
---
If you graduated in massotherapy, RITMA Massage Therapist Association offers you the opportunity to become a member.
Accreditation Requirements for Massage Therapist
RITMA Massage Therapists Association, like the other RITMA Associations, has its own code of ethics and regulations that must be respected by its members under penalty of expulsion.
Code of Ethics for RITMA Association
As a professional association representing practitioners of alternative and complementary medicines, RITMA require that all its members hold an Errors and Omissions insurance. For the respect of our members, we want them to be well protected.