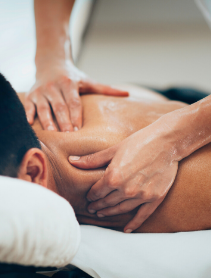 RITMA Massage Therapists Association - 1000 HOURS AND MORE
Faced with various issues affecting the massage therapy sector for several years, RITMA proposes a rigorous supervision of trainings and practices for the entire profession. To this end, RITMA has aligned its membership criteria with those required in the legislated provinces. Thus, since 2012, massage therapists must have more than 1000 hours of training or equivalent skills.

Consequently, our massage therapy association protects the public by guaranteeing quality professional services. It also secures insurers, avoiding the need to reimburse non-therapeutic care that have nothing to do with the discipline.
To date, as the practice is not regulated, there is no Order of Massage Therapists in Quebec or an official federation. We consider that massage therapists, the general public and the insurer community are well served, without the burden and costs of a professional order. In fact, among the thirty associations and groups involved with massotherapy in Quebec, there is a strong tendency to structure practices and set standards and norms rather than the advent of a professional order. To this end, we invite you to visit the site of the sectoral committee that oversees massage therapy.

Although there are various associations of professional massage therapists in Quebec, Ritma is known for its high standards. As a result, the association represents a community of highly qualified therapists in this sector.
RITMA Massage Therapists Association is open to all graduates from accredited schools who practices within the province of Quebec.
---
If you graduated in massotherapy, RITMA Massage Therapist Association offers you the opportunity to become a member.
Accreditation Requirements for Massage Therapist
RITMA Massage Therapists Association, like the other RITMA Associations, has its own code of ethics and regulations that must be respected by its members under penalty of expulsion.
Code of Ethics for RITMA Association
As a professional association representing practitioners of alternative and complementary medicines, RITMA require that all its members hold an Errors and Omissions insurance. For the respect of our members, we want them to be well protected.